Devine qui fait ça !
Éditeur Minedition – Parution 2019
En français Devine qui fait ça ! 
En allemand Wilde Tierstiemmen 
En anglais Peek-a-who ? 2 : USA, UK le 1er Septembre 2019

Review
« Books that Captivate Babies and Toddlers. Elsa Mroziewicz has followed up one terrific lift-the-flap book, Peek-a-Who?, with another, Peek-a-Who Too?. With simple but colorful and richly decorative illustrations a cut above the usual board-book art, both of these triangular-shaped books hide a different animal under large flaps…. Asking babies or toddlers to make or identify animal sounds is a foolproof way to engage them in the back and forth of a conversation, and this book combines that pleasure with clever visual and tactile problem-solving. » —Maria Russo, New York Times​
A Parents Magazine Best Book of the Year
A triangular board book may seem unusual, but Peek-A-Who?, with its cleverly shaped lift-the-flaps, garnered fans from across the children's book world. This follow-up to the acclaimed original is full of hidden animals, each making different sounds. Can you figure out who each one is? Lift the unique shaped flaps to see who peeks out!

« 2019 Great Board Books. Last year's Peek-a-Who was gorgeous, no question (and it made it onto the 2018 Great Board Books & Pop Up Books list) but this year's is better.The book keeps you guessing every step of the way, and the illustrations are far more beautiful than they have any right to be. Plus I love the scary/not scary aspect of discovering the flaps are teeth or paws reaching out to get you. Eek! One of my favorites. Certainly, one of the most beautiful."—Elizabeth Bird, School Library Journal 
« Top 5 For Under 5. A board book that's a triangle! This follow-up to Peek-a-Who is full of hidden animals, each making different sounds. Can you figure out who each one is? Lift the unique shaped flaps to see who peeks out! Babies and toddlers are sure to be delighted by these colorful, noisy creatures. » —Princeton Library 
« This triangular-shaped board book for children offers an animal question on each page with a flap that reveals the answer. Children's board books like this one are a great option to purchase rather than borrow from a library. This book is very sturdy, good for infants to 2- or 3-year-olds when kids are able to handle pages on their own. » —Daniel Goldin, Bowell Book Company, Wisconsin Public Radio
« Best and Brightest Board Books of 2019. Exquisite. The small, triangular book fits well in little hands, and young readers will enjoy opening the flaps up and down to see who makes each sound. The vibrant colors and patterns will draw readers of all ages to revisit this title. » —Denver Library

Awards
Cybil's Award Board Book Finalist 2019
Press
Best Kid's Books 2019 : Parents magazine
On the Boardwalk: Our picks for the best board books of the season- SLJ
Book Reviews Die österreichische Lesecommunity
Journal Der Standard – Allemagne
book web : titles-announced-abc-best-books-young-readers-catalog
Suite du livre Devine qui je suis !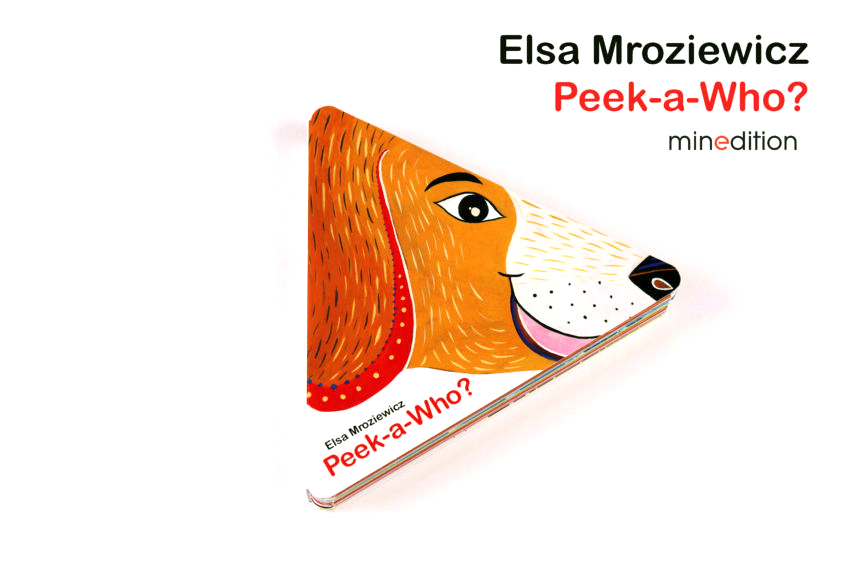 Review
« BOARD BOOKS 2018: WHAT WE'VE GOT IS A VERY STRONG YEAR: Has anyone else noticed that 2018 has been a shockingly strong board book year? Here's a small smattering of some of the true beauties I've run across this year …. Because life is too short not to indulge in triangular board books. » —Elizabeth Bird, School Library Journal/A Fuze #8 Production
« Just when you thought it couldn't be done, there's a new twist—ahem, fold—on a classic guessing game! …eye-catching triangular shape …Caregivers will flip over the innovative flaps, warm animal art, and opportunities to interact with little listeners. » —kirkusreviews.com
« Innovative… Mroziewicz packs uncommon exuberance, expressiveness, and design into a little triangular package. » —Publishers Weekly
« This triangular board book is engagingly designed to fit in little hands. Each page turn offers a diamond-shaped double-page spread that asks youngsters to guess an animal based on the sound it makes. "Who says meow?" queries a cheerful blue spread. And here's where it gets fun: the answer is found by unfolding the pages, transforming the spread into a whiskered cat's face, with perky triangle ears. The pattern repeats to reveal 11 vividly painted animals by book's end, including a turkey, snake, pig, sheep, and peacock. Sturdily constructed, this clever book will withstand grabbing and multiple reading sessions. » —Julia Smith, Booklist
« Books don't usually come in triangular form, but three sides and three angles make perfect sense for Peek-A-Who?, a board book for babies and toddlers that ranks among the year's best. » —Meghan Cox Gurdon, Wall Street Journal
« Fun to share with a lap sitting baby and sturdy enough for toddlers to flip through on their own. A delightful novelty book. » —Gold Award, http: //www.toyportfolio.com/gold-infants
« Kids will love it! » —Ami Segna, Amomssparetime.blogspot.com
Cybil's Award Board Book Finalist —http://www.cybils.com/2018-fiction-picture-books-and-board-book-finalists
Selected as one of the Best New Board Books of 2018 —https://www.thechildrensbookreview.com/weblog/2019/01/the-best-new-board-books-of-2018.html
« Mroziewicz's Peek-a-Who? asks young readers to identify a series of animals by their characteristic sounds prior to revealing each animal's identity by opening triangular board book flaps…. effectively designed board books offer both an innovative and supportive reading experience, thanks to their repetitive question/answer structures and thoughtful visual clues. » —Review, http://guessinggeisel.blogspot.com/2018/12/2018-international-beginning-reader.html
« Best Toys for Babies and Toddlers. [This] will spark your little one's imagination and stand the test of time. » —Zero to Three